FASHION HOUSE TOUR
Meet the tour host at The Good Oil Café 314 George St, Dunedin for a coffee prior to an exclusive tour through top Dunedin Fashion Houses, including meeting Dunedin's top Fashion Designers and a chance to shop. Clients will enjoy a glass of bubbles along the way.
Mild Red
Mild Red is a premium New Zealand made fashion label, based in Dunedin. Founded by Donna Tulloch in 1995, originally as an avant-garde knitwear label. Today the label specialises in textural, sculptural, monochromatic knit and woven collections that are described as having a tough elegance style. With premium quality material combinations, sculptural yet timeless styles that are designed to last and combine with past and future collections.
NOM*d
Dark and wittily sombre, NOM*D has created an iconic image on the New Zealand fashion landscape. The label's designs, which reference traditional tailoring and use reworked vintage garments, are anchored by a utilitarian approach and the concept that clothes must, above all else, be wearable. In every collection, NOM*D maintains its credibility as a label unaffected by trends and whims, instead adopting the cool, considered gaze of the fashion outsider.
Charmaine Reveley
Charmaine Reveley bridges the line between classic feminine beauty and contemporary fashion to give entirely wearable effortless pieces. Flattering cuts and a fresh sense of individual artistic sensibility. Custom-made prints are always a strong element of her conceptual collections, growing organically from season to season. The Charmaine Reveley woman is not a believer in the idea of instantly disposable trends but confident in her own subtle sexy style.
Company of Strangers
Since its inception in 2008, Company of Strangers has seduced a cult following with a proudly 100% New Zealand made range of high-quality garments, leather and jewellery. Referencing art, architecture and rock 'n' roll muses as inspiration, Company of Strangers symbolises the ability to appear darkly subversive, yet still capable of being romantic.
Garments are meticulous yet experimental reflecting a modern simplicity, combining luxury fabrics with contemporary functionality. Particular consideration is taken to create timeless silhouettes that are strong but sensual, creating pieces that are adaptable to any wardrobe and any season. We have hand selected the best local craftsmen to manufacture our products to ensure the highest quality is maintained. Our garments are pre-washed and quality tested in house by us before they arrive to you. What you see is what you get, these are investment pieces that are built to last.
This price includes the above, as well as lunch and a glass of bubbles at Vault 21 after the tour has concluded. There will be a host on the day who has previously worked for iD Fashion so has some great knowledge to share with the guests.
The designers will also offer a 10% discount on any items brought instore on the day.
Bead Workshop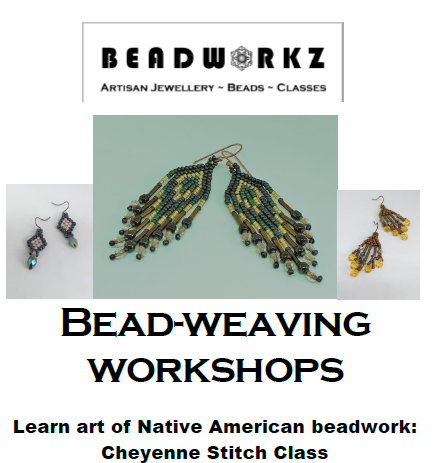 Hannah is an award-winning beadwork artisan with over 30 years' experience and offers a variety of workshop style classes for beginners and advanced learners. If you have an eye for detail and enjoy working with your hands, this beginner's Cheyenne-stitch class could be for you!
NZIBS has arranged a 3-hour Cheyenne-stitch workshop for beginners. You can expect to come away with a new skill and earring of your This activity is limited to 8 people and will take place on Saturday 28 September 2019, 9.00 am – noon. The cost is $45 per person.
Website: www.beadworkzdunedin.co.nz